La Dame Blanche photo by Maxi Guterman
WEDNESDAY, NOVEMBER 1, 7PM PDT BAINBRIDGE ISLAND MUSEUM OF ART
"Celebrating Mary Lou Willams" – An Evening of Live Performance and Film
Presented by Bainbridge Island Museum of Art. $10-15
Ann Reynolds (pianist and composer) and Kay D. Ray (filmmaker) team up to bring you a program of live music and archival film footage to celebrate jazz great Mary Lou Williams. Tickets at biartmuseum.org/events/within-earshot-jazz-festival.
WEDNESDAY, NOVEMBER 1, 8:30PM PDT CLOCK-OUT LOUNGE 21+
High Pulp
$12-30
BY ERIC OLSON
It feels odd to call a group as young as High Pulp "veterans," but jazz is a mercurial thing, and they've clearly worked hard enough to earn the label. This inventive, groove-in-the-front sextet came to the scene's attention back in 2016, playing DIY gigs at a soon-to-be demolished artist's space at the top of Beacon Hill. Unlike that structure (RIP), the band's ensuing years have been fruitful.
Earshot Jazz Festival '23 finds High Pulp fresh off their first nationwide tour, with stops in landmark jazz towns like Montréal, Pittsburgh, and Kansas City. If you think that announces their trajectory, check out the guestlist on their July album Days in the Desert: MonoNeon, Kurt Rosenwinkel, Brandee Younger. Sheesh!
"Jazz is like basketball," says saxophonist Victory Nguyen of these sit-ins. "You've got to take your shot and see if it goes in. Sometimes it does."
As this very magazine wrote in 2022, "High Pulp is not a product of the jazz education industrial complex." This isn't a snub at our collective pedagogy but rather a salute to the band's wide-ranging ear and penchant for exploration. Their albums generate a madcap series of soundscapes – trance, noise rock, trip hop – often all in the same track. And their live performances up the ante.
"There's more attention drawn to the patterns in the melodies and the compositions feel more long-form," says bassist Kaeli Earl, the group's newest member. "It's been cool watching the music progress."
High Pulp is Antoine Martel (keyboard, synthesizer), Andrew Morrill (saxophone), Bobby Granfelt (drums), Rob Homan (keys), Victory Nguyen (tenor saxophone), and Kaeli Earle (bass).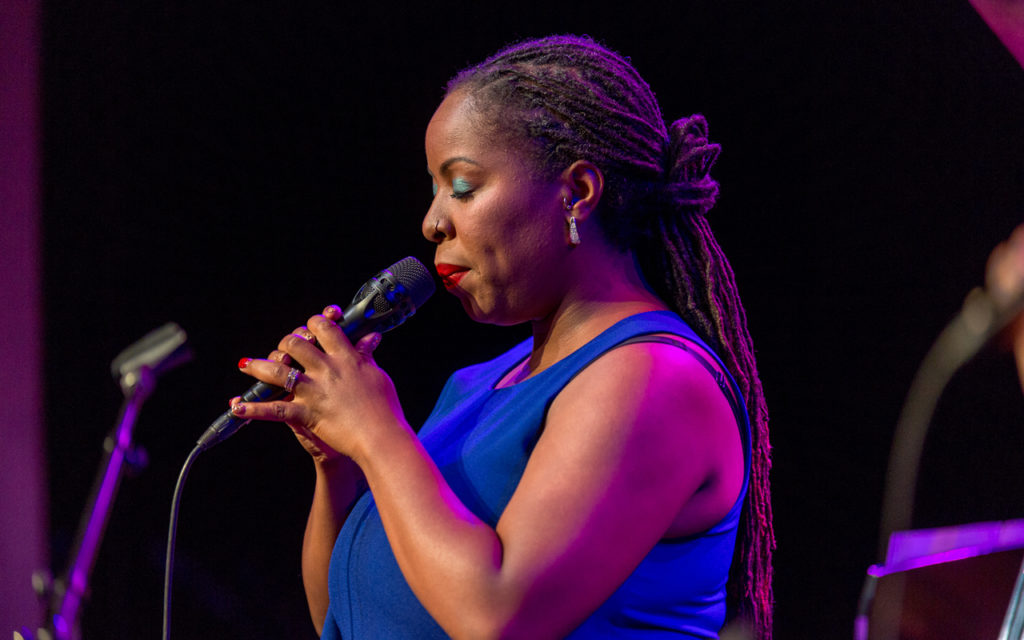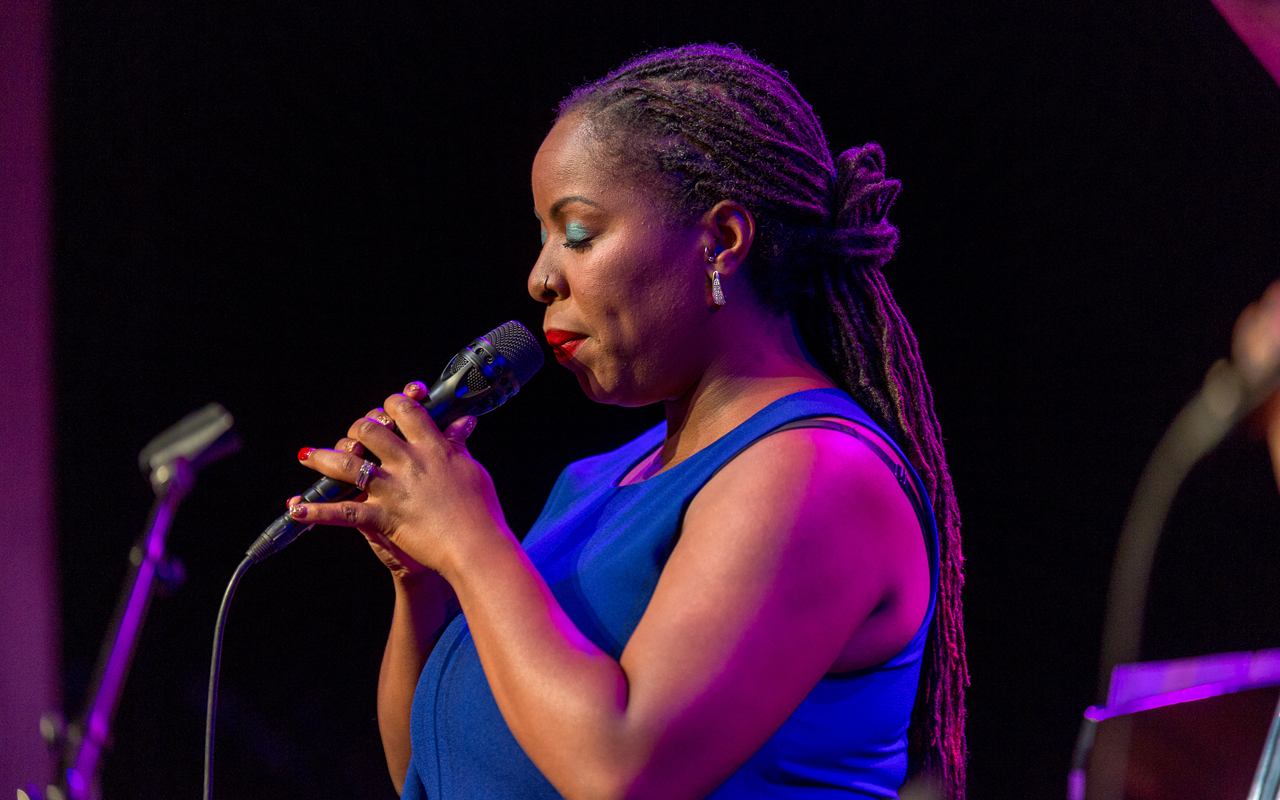 THURSDAY, NOVEMBER 2, 7:30PM PDT CORNISH RAISBECK AUDITORIUM
Johnaye Kendrick's Grounded
Sponsored by BECU. Welcomed by Rainier Avenue Radio. $12-30
BY FRANK KOHL
Vocalist, composer, and multi-instrumentalist Johnaye Kendrick has been called the real deal. And she surely is just that with a professorship at Seattle's Cornish College of the Arts, degrees from Western Michigan University and Loyola University in New Orleans, and a diploma from the prestigious Thelonious Monk Institute of Jazz. And now she's this year's Festival Artist in Residence. She has two critically acclaimed CDs to her name—Here (2014), Flying (2018), and a third, Heart Songs, on the way. All this is only part of the story that brought Kendrick to the level she is at today.
Born in San Diego, she has traveled far and wide, and her accomplishments are impressive. Her associations with iconic jazz figures like Herbie Hancock and Wayne Shorter and her vocal supergroup säje are but a few examples that speak to the level of excellence she has achieved. Her musical spectrum is broad, some of her music is straight up jazz that uses tunes from the standard jazz repertoire while incorporating some breathtaking scat singing. On the other hand, much of what she does is original and possesses elements of new age and folk with strong spiritual elements.
"Grounded" is her third appearance at the 2023 Earshot Jazz Festival and the premiere of her Chamber Music America and Jack Straw supported original suite. "Grounded" is an original, multi-movement piece for string and jazz quartet with Kendrick on vocals, harmonium, and other healing instruments. The jazz quartet will feature some of Seattle's finest musicians and regular bandmates including Dawn Clement (piano), Chris Symer (bass), and D'Vonne Lewis (drums). "Grounded" promises to be a musical event like no other. A work that incorporates many different levels of musical, cultural, and spiritual expression.
THURSDAY, NOVEMBER 2, 8PM PDT THE ROYAL ROOM
Ted Poor Quartet feat. Josh Johnson, Cuong Vu & Anna Butterss
Sponsored by BECU. Welcomed by 91.3 KBCS. $12-30
BY PAUL RAUCH
Drummer/composer Ted Poor has achieved a true rarity in the world of percussion. While drumming and voice are the two modern ties to the ancient origins of human creative sound, modern innovation into drumming as a melodic, or even harmonic function has seldom been engaged to the extent that we see in his approach.
Poor has appeared onstage and in the studio with a full spectrum of musical adventurists, including Bill Frisell, Andrew Bird, Pat Metheny, Kurt Rosenwinkel, and a host of others. His orchestral style has enabled him to perform solo, creating music with great density and depth. He opened for Bird on a recent tour, performing solo.
Poor arrived in Seattle in 2013 as artist-in-residence at the University of Washington after ten years in New York, where he quickly developed a deep musical relationship with eclectic trumpeter, Cuong Vu. For his performance at the 2023 Earshot Jazz Festival, he partners with Vu in a new quartet featuring broad-based bassist Anna Butterss and dynamic alto saxophonist, Josh Johnson.
All four of these musicians play music that while being free and spontaneous, is also soulful and listenable. The musical facility and virtuosity they display is motivated by an explorative vision of the spirit of the music. While we are fortunate to have Poor and Vu with us in residence in Seattle, opportunities to see them play together here are not all that common. In that way, this band personifies jazz music in Seattle and perhaps the city itself – there is an openness in its expression, a free spirit in its nature, and an inclusion of the audience in its process.
FRIDAY, NOVEMBER 3, 7:30PM PDT CORNISH RAISBECK AUDITORIUM
Michael Bisio & Timothy Hill
$12-35
BY ANDREW MEYER
Bassist/composer, Michael Bisio, and vocalist/guitarist, Timothy Hill, frequently flip expectations imposed upon their instruments with Bisio's double bass often taking the melodic, exploratory role, set against Hill's droning, vocal harmonic textures and rolling, scratching guitar sonorities. On their 2023 Origin Records release, Inside Voice / Outside Voice, Bisio and Hill often move from this opening position toward a sort of sonic singularity where harmonics from bowed double bass blend seamlessly with vaporous, celestial vocal overtones and extended guitar technics. A mixture of original compositions, improvisations, and well-loved standards, Bisio and Hill's variegated approach to texture is further contrasted by Hill's frequently straightforward delivery of lyrics on ballads such as "My One and Only Love" and "I Fall In Love Too Easily". Listeners are offered entry to survey these sonic vistas through the seeming familiarity created by the expansive use of human voice, as well as the familiarity of standard song forms.
Known equally as composer and performer, double bassist Michael Bisio is acclaimed for his improvisation which frequently features both lyrical bow work and daring extended technics. His considerable catalogue of recorded work features many leading names in new music, including Matthew Shipp, with which Bisio has held a long and fruitful musical partnership, yielding ten releases. Whatever the setting, Bisio is well regarded for pulling beauty and warmth from his instrument. As a composer, Bisio has created a wide-ranging list of works for diverse ensembles as well as works for theater, film, and animation.
In his artistic statement, Timothy Hill reflects on the role of music in relation to memory and the preservation of nearly all aspects of culture. A master of harmonic singing, and respected for his talent in Tibetan chanting, Hill's expansive vocal palate seems to tap into memory held at the cellular level. Hill's vocal ability is captivating namely because he pushes the boundaries of what is possible with an instrument that we all possess, the human voice. This conflation of the otherworldly with the intimately familiar creates ethereal textures which give rise to the mystical and spiritual. Growing up in an artistic family, Hill came to absorb a diversity of musical thought from a young age and recalls Captain Beefheart, 1970s-era singer-songwriters, Chick Corea, and Terry Riley's improvised concerts as important early influences. Studies at Portland State University with Robert Moran introduced Hill to the work of Karlheinz Stockhausen and John Cage and a decade plus mentorship with Keith Jarrett stoked Hill's intense interest in solo performance. Hill further studied Hindustani classical vocal music with Sheila Dhar before presenting slam poetry with Allen Ginsberg and Jeff Buckley in New York's East Village.
Listeners can expect long-form improvisation based on original compositions as well as sonically expansive takes on well-known standards from like-minded and sympathetic performers.
FRIDAY, NOVEMBER 3, 8PM PDT CHAPEL PERFORMANCE SPACE
Roman Norfleet and Be Present Art Group
Co-produced by Earshot Jazz and Nonsequitur/Wayward Music. $10-30
BY JONATHAN SHIPLEY
The 34-year-old Portland resident was in Washington, D.C. at Malcolm X Park at a drum circle when it came to him. The elders there let him play; let him express himself; let him find something about himself and the world beyond. "There was a particular message I was hearing in the music," said Roman Norfleet. "A dissonant unification. A vehicle for the next life."
His next life led him to form and be the band leader of Be Present Art Group, who has a self-titled debut album out on Portland's Mississippi Records. The group plays deeply felt, spiritual, spacey music. It's hard to put a finger on it. "It" being something as ephemeral as the here and now in music. "Improvisation," Norfleet said, "is one of the best methods, if not the best, for spiritual development." He continued, "It keeps us open as channels to receive cosmic messages."
The evening's ensemble includes Roman Norfleet (saxophone, percussion, vocals, keys), Andre Raiah (Brown Calvin) on keys, drummers Dae Bryant and Machado Mijiga, percussionist Cam Haskins, Harlan Silverman on cello, bassist Scotty Williams (Based Zeus), and Jacque Hammond on vocals.
The message the music is trying to impart is to assure us that we are light; that we are enlightened. That we are separate and entirely together; that we are part of the universe and the universe. Norfleet said, "The Universe and Celestial Creative Beings omits sounds and have music that can inform our being on planet Earth if we are willing to listen and learn." Norfleet, and his group, are always listening; always learning; finding that dissonant unification.
SATURDAY, NOVEMBER 4, 7PM PDT ROOSEVELT HIGH SCHOOL AUDITORIUM
Battle of the Bands: Garfield and Roosevelt High School Jazz Bands
Welcomed by KNKX. $10-50
BY M.V. SMITH
"The big band programs here are kind of like high school football in Texas," as a local musician quoted in Playing Changes, Nate Chinen's chronicle of modern jazz. Roosevelt and Garfield's jazz programs regularly send students to prestigious conservatories like Juilliard in New York and Berklee in Boston, many of whom go on to professional careers. Between them, Garfield and Roosevelt have produced Kassa Overall, Roxy Coss, Sara Gazarek, and the Westerlies, not to mention folks like Alex Dugdale and D'Vonne Lewis who elected to stay closer to home.
In addition to boasting illustrious alumni, the Garfield and Roosevelt bands are frequent finalists (and champions) in nationwide competitions like Jazz at Lincoln Center's Essentially Ellington (EE): both schools have placed first four times each. At this year's EE, both schools racked up accolades for section and solo work. Roosevelt was awarded Outstanding Rhythm Section, while Garfield earned nods for Outstanding Trumpet Section and Outstanding Trombone Section. Additionally, two Roosevelt students were named Outstanding Drums and Outstanding Tenor Saxophone, and four Garfield musicians were recognized as Outstanding Bass, Clarinet, Alto Saxophone, and Trumpet.
In another remarkable bit of symmetry, both schools have experienced leadership transitions. Jared Sessink took over for Garfield's legendary Clarence Acox in 2019, while Hannah Mowry succeeded longtime Roosevelt director Scott Brown last fall.
For their joint performance at this year's Earshot festival, Roosevelt hosts crosstown rivals Garfield for an old-fashioned battle of the bands, featuring the music of big band pioneers Count Basie and Duke Ellington.
SATURDAY, NOVEMBER 4, 7PM PDT HOTEL CROCODILE 21+
Maiden Voyage Listening Session w/ Ted Poor
Maiden Voyage is a traveling, hi-fi listening experience that brings music fans together in a communal setting for focused listening of jazz on vinyl. Using their mobile audiophile sound system, Maiden Voyage and guest selectors share their favorite records in an ode to the jazz kissa of Japan. Listening sessions are 21+.
Earshot performer and Impulse! Records artist Ted Poor will be the special guest selector for the evening. Tickets at maidenvoyagehifi.com.
Saturday, November 4, 7:30PM PDT Nordstrom Recital Hall at Benaroya Hall
Sunday, November 5, 2PM PST Kirkland Performance Center
Seattle Repertory Jazz Orchestra w/ Anat Cohen
Produced by Seattle Repertory Jazz Orchestra. $35-75
BY ARMANDO FLEURY
Following her triumphant performance last year with her Quartetinho at the 2022 festival, the great Israeli reed player Anat Cohen returns for a second round fronting the region's much-loved ensemble of veteran jazzers, the Seattle Repertory Jazz Orchestra (SRJO), which first presented Cohen in a stunning performance in 2015. Over the past two decades, jazz lovers everywhere have fallen in love with Cohen's carbonated clarinet solos and eclectic, jazz-world vibe on clarinet and tenor sax. For Cohen's 2023 festival performance, SRJO's Music Director Michael Brockman hints she'll play a mix of tunes from the last show – including Lonnie Smith's "And the World Weeps," as well as more recent material, such as "Louisiana," Brockman's arrangement of "La Vie En Rose," and Oded Lev-Ari's "Lost and Found." Brockman is also writing a new arrangement, specially for this show, of Cohen's "Engole O Choro."
Born in Tel Aviv, Cohen studied at the Tel Aviv-Jaffa Music Conservatory, where she played in a traditional New Orleans jazz band, then fulfilled her military service in the Israeli Air Force Band. After getting a degree from Boston's Berklee College, she moved to Manhattan, in 1999, where she played with Sherrie Maricle's DIVA Jazz Orchestra for a decade. In 2009, she headlined the Village Vanguard – a first for an Israeli – which resulted in her breakthrough recording, Clarinetwork: Live at the Village Vanguard. Cohen is a three-time Grammy nominee and has been selected clarinetist of the year by the Jazz Journalists Association every year since 2007. Recently, she has served as artistic director for SFJazz, in San Francisco.
SUNDAY, NOVEMBER 5, 7:30PM PST CENTURY BALLROOM 21+
La Dame Blanche / Carlos Snaider
Welcomed by KEXP. $12-38
BY DEVON LÉGER
Playing the flute, rapping, singing, holding court like a true diva, and posing for press pics with a huge cigar, Afro-Cuban artist La Dame Blanche just might be the "Lizzo meets Cesária Évora" combination we didn't know we needed! She's an uncommonly talented artist across a wide span of Latin genres, but she's also heir to deep traditions of Cuban music. The daughter of Jesús "Aguaje" Ramos, trombonist and musical director of the legendary Buena Vista Social Club, La Dame Blanche aka Yaite Ramos Rodriguez grew up surrounded by Cuban music.
Interestingly, it was in moving to Paris that Rodriguez really developed her own sound. The Parisian Cuban community is little known but vibrant, and in the late '90s and early aughts, a band called Orishas was pioneering a fusion of hip-hop and Afro-Cuban religious and musical traditions that helped galvanize a new generation of Cuban artists with lives in France and Europe. Rodriguez came out of that world, tied to her longtime producer Marc "Babylotion" Damblé who worked extensively with Orishas.
On her newest album, Ella, Rodriguez taps into the cosmology at the heart of the Afro-Cuban religion Santería, delivering an homage to her mother and to mothers everywhere that's tied to a feminine divine. The album is often political, taking aim at the patriarchy and its manifestations, and shouting out #NiUnaMenos (Not One More) a #TimesUp rallying cry in Latin America against femicide. The music ranges from the most current sounds of New York trap to makuta, an Afro-Cuban rhythm so old that its roots are Congolese. After all, as Rodriguez says, "This is an album for dancing, it's not total war!"
Opening for La Dame Blanche, Seattle guitarist Carlos Snaider will bring his far-ranging musical curiosity to the stage. At home in wildly different musical worlds, from his own "avant-Latin" to jazz and salsa, Snaider is one of three artists commissioned by Earshot Jazz to compose new music for the festival. Snaider will present, "Multiverso," with a new quintet that packs in deep grooves, avant-Latin soundscapes and precise musical poetries.