Alex Dugdale photo by Daniel Sheehan
Remembering Overton Berry with Diane Schuur & Bruce Phares/ Garfield High School Jazz Band
Saturday October 8, 7:30pm PDT
Town Hall Great Hall
In-person and livestream
Tickets $5-35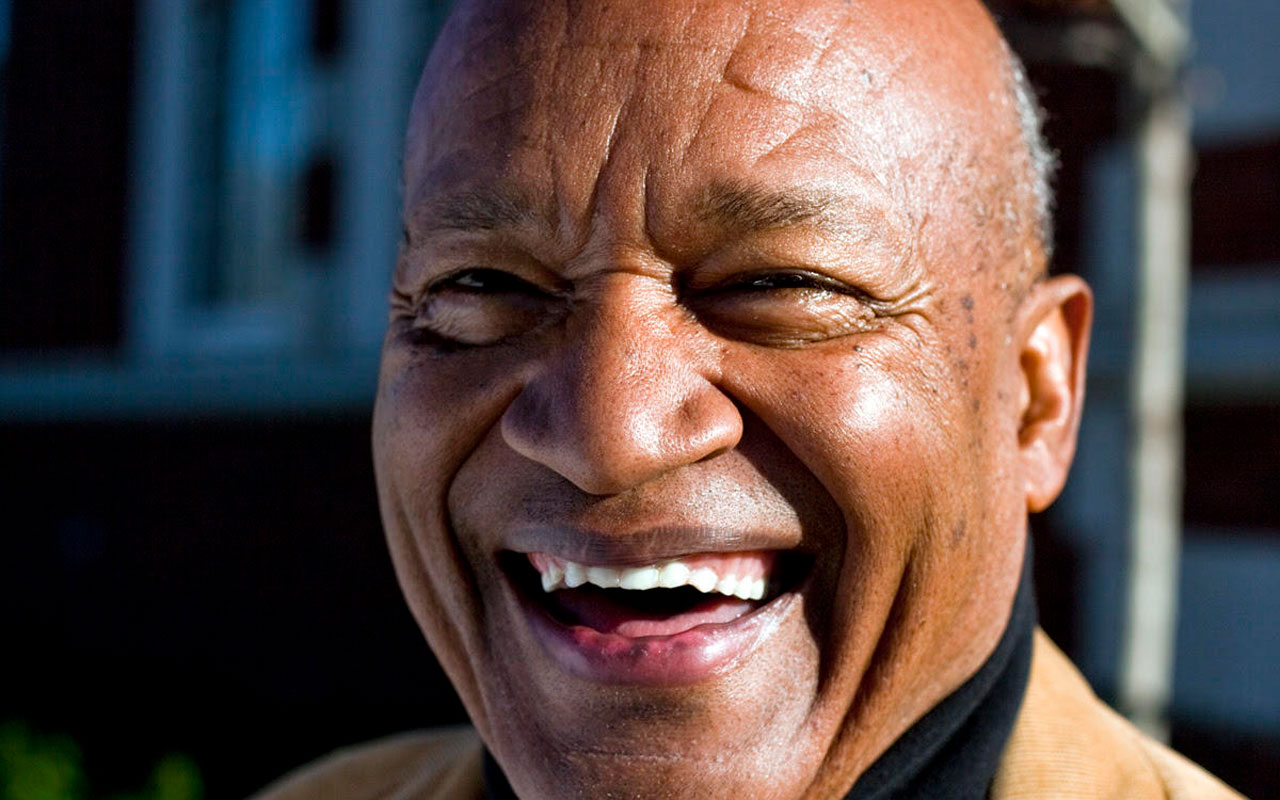 BY MATTHEW ADKINS
Thanks to the Raynier Institute & Foundation for its support of this presentation. Welcomed by KNKX. In-person and livestream. $5-35
Overton Berry's significance to the Seattle jazz scene can't be overstated. He wasn't just from Seattle; he was part of the city's fabric.
Overton Berry came of age as a jazz pianist on Jackson Street in the late 1950s, and he learned an important lesson from the giants he played with there: jazz is a live genre. It thrives on the moment; in the particular way a tune appears in the now and then vanishes as the notes fade. Though he produced a handful of studio albums over the course of his career, Berry built his towering reputation by tirelessly performing at venues all over Seattle, from the Islander, to the Admiral, to the DoubleTree. This made him a familiar face to natives, which in turn made him a tremendous influence on the city's music and culture.
Berry's career as a live performer is crucial to Seattle for another reason as well. The beginning of his career coincided with the integration of music in the city in the late 1950s and early 1960s. Seattle music unions officially integrated in 1956, and Berry led an integrated band in 1962, the year the World's Fair came to Seattle and brought recognition to a jazz community that had been burgeoning for some thirty years. In that sense, Berry serves as a monument to Seattle's own Civil Rights history.
Berry, who passed away in 2020, will be honored at this year's Earshot Jazz Festival by another Seattle legend, one of many whose career he helped launch: Diane Schuur. Schuur, of course, is a household name. A Grammy Award-winning singer and pianist with two dozen albums to her credit, she's worked with everyone in the music industry, from Stan Getz and Dave Grusin, to Ray Charles and Gloria Estefan. It was Berry, though, who gave Schuur her first chance to shine as a vocalist in 1975. Schuur made the most of this opportunity, working steadily with Berry over the next seven years and would often return to Seattle to play with her old mentor, a man she described as "like a father to me."
Schuur's most recent release, Running on Faith, pays tribute to a number of other artists who have influenced her, including John Lennon and Paul McCartney, Carole King, Paul Simon, Miles Davis, and Jerome Pomus.
Schuur will be joined on stage with her ensemble including bassist and Artistic Director of the evening, Bruce Phares; vocalists Gail Pettis and Greta Matassa; bassist Jeff Davies; D'Vonne Lewis on drums; pianist Jeremy Bacon; and saxophonist Mark Lewis. Opening the evening is the vaunted Garfield High School Jazz Band, under the direction of Jared Sessink. Overton attended Garfield alongside fellow alumnus Quincy Jones, and the school was instrumental in developing his musical gifts. Today, Garfield continues to build on its reputation as one of the premier high school jazz programs in the country.
Esthesis Quartet/ Seattle JazzED Messengers
Sunday October 9, 7:30pm PDT
Town Hall Forum
In-person and livestream
Tickets $10-25
BY PAUL RAUCH
Sponsored by Patricia and Richard Fiske. Welcomed by Rainier Avenue Radio. In-person and livestream. $10-50
The COVID-19 pandemic created many lines of separation between us, disallowing the basic human attributes of touch and physical presence. Indeed, the term "esthesis" means "elementary sensations of touch." While isolated from each other during the pandemic lockdown, the four members of this quartet gathered on Zoom in support of creating compositions with the musical foursome in mind. They "touched" each other with inspired writing and the hope of once again gathering in the spirit of friendship and music.
That ideal came to pass in a Los Angeles studio, resulting in the spring 2022 Orenda Records release, Esthesis Quartet. The recording introduced the jazz public to a strong, innovative quartet featuring four prominent female artists.
Pianist/vocalist Dawn Clement and flutist Elsa Nilsson have deep roots in Seattle, both as students at Cornish College of the Arts, with Clement's tenure there including a long-term professorship. Swedish-born New York City resident Nilsson took advantage of her time in Seattle by performing live with many of the city's most renowned players. Clement performed regularly with Julian Priester, Johnaye Kendrick, and others, culminating her tenure in Seattle as Resident Artist at the 2017 Earshot Jazz Festival. Nilsson has spent her time wisely in New York, rapidly becoming recognized as a unique and innovative trailblazer of her instrument. Her presence on the front line of Esthesis Quartet exudes a physical strength, brilliance of tone, and deep compositional wisdom.
Drummer Tina Raymond is a well-known quantity on the international jazz scene both as a musician and clinician. Her use of African polyrhythms and classical percussion techniques in her playing is free-flowing and original. Bassist Emma Dayhuff has a presence and depth of talent that continues to evolve in a myriad of notable ways. One of only five women to participate in the Herbie Hancock Institute of Jazz Performance, the Chicago-based Dayhuff is performing and recording while continuing to pursue her Doctor of Musical Arts at the University of Wisconsin in Madison.
Esthesis Quartet is a collective in the truest sense of the word. The sensation of touching an audience through live performance is the ideal and next logical step.
The robust and dynamic educators of the Seattle JazzED Messengers open the evening featuring Freddy Fuego (flute), Steve Treseler (clarinet), Ben Hunter (violin), Medearis Dixson (alto), Kate Olson (bari), Chris Littlefield (trumpet), Audrey Stangland (trombone), Jerome Smith (tuba), Davy Nefos (drums), Carlos Snaider (guitar), Darrius Willrich (piano), and King Dawidalle (bass).
Kurt Rosenwinkel Quartet
Wednesday October 12, 7:30pm PDT
The Triple Door
In-person
Tickets $10-30
BY FRANK KOHL
A true pioneer of jazz guitar from straight-ahead to fusion, Kurt Rosenwinkel can do it all. Born in Philadelphia and currently based in New York, his music and guitar playing are now recognized worldwide. With a sound all his own and compositional skills to match, he has become one of the most iconic guitarists of the day. From his early years with Gary Burton to the present day, he has collaborated with jazz greats like Brad Mehldau, Joshua Redman, and Christian McBride. As a leader, Rosenwinkel has over thirteen records to his credit in addition to being a notable composer, educator, and pianist. Rosenwinkel's sound is modern, electric, lyrical and spacious, using a smart amount of sound-enhancing effects. He has flawless technique and knows how to use it wisely in combination with his unique way of phrasing.
As contemporary as his playing can be, his foundation in straight-ahead jazz is deep. His diverse range of influences, from John Coltrane, Bud Powell, and Tal Farlow to Pat Metheny and David Bowie, are a testament to his broad musical palette. Rosenwinkel brings an impressive quartet to this show comprised of pianist Taylor Eigsti, who was awarded the 2022 Grammy for Best Contemporary Instrumental Album; bassist Eric Revis, who has performed with Betty Carter and extensively with Branford Marsalis, in addition to his many recordings as a leader; and, drummer Gregory Hutchinson who is one of the most in-demand drummers on the scene today, working with jazz greats like Red Rodney, Carter, and Marsalis.
Kurt Rosenwinkel is a guitarist/composer who embodies the spirit of jazz and its future. Through his many years of exploration, coupled with a strong desire to find a new path forward, he has found a place in the hearts of jazz fans. He is one of the few guitarists who has headlined week-long engagements at New York's legendary Village Vanguard. The New York Times' Nate Chinen has described Rosenwinkel's performances as: "There's a streak of otherworldliness in his playing, but also a sense of familiarity." This says it all!
Fellowship 'Ceptet feat. Johnaye Kendrick
Thursday October 13, 7:30pm PDT
Town Hall Forum
In-person and livestream
Tickets $10-30
BY PAUL RAUCH
Sponsored by BECU. Welcomed by KNKX.
The Fellowship 'Ceptet, led by trumpeter Thomas Marriott, is an outgrowth of another Marriott project: The Seattle Jazz Fellowship, a 501(c)(3) non-profit dedicated to the resident jazz scene in Seattle. Marriott's concept aims to create a collective effort that prioritizes building community, increasing mentorship, incentivizing excellence, and lowering barriers to access.
The Fellowship 'Ceptet fulfills the call to increase mentorship, with Marriott prioritizing a blend of musicians that crosses generational lines. It shines a light on the lack of age bias that has been a part of jazz tradition from the beginning. The personnel has changed a bit between performances due to a variety of factors. For example, bassist Grace Kaste has performed with the band during her senior year at Roosevelt High School but had to opt out of this performance as she attends Columbia University in New York. Marriott tapped bassist Trevor Ford in her absence, a young musician who arose on the scene following the COVID-19 lockdown in Marina Albero's band.
The Barcelona-born Albero joins the band a year following her 2021 Earshot Jazz Festival artist residency. Alto saxophonist Mark Taylor stands with Marriott and Albero as a veteran presence in the band, as is the case with drummer D'Vonne Lewis. Trombonist Beserat Taffesse is on the leading edge of new, young faces on the Seattle scene. Tenor saxophonist Jackson Cotugno is a young saxophonist with a modern approach that features an older, Ben Webster-style sound. Then, of course, there is Marriott, on the cusp of releasing his fourteenth album as a leader, and perhaps the most notable Seattle jazz musician on an international scale.
Vocal artist Johnaye Kendrick is a musician whose instrument is voice. Her approach blends dynamic range with a strong melodic sense, perfect pitch, and open ears. The author of two albums as a leader is also a member of the Grammy-nominated vocal supergroup, säje. She came to Seattle to secure a full professorship at Cornish College of the Arts, arriving after attending the prestigious Thelonious Monk Institute at Loyola University in New Orleans. Her time in the Crescent City featured performing with Nicholas Payton and Ellis Marsalis. Kendrick's addition brings a whole new dimension to the 'Ceptet, who will feature her addition for the first time with this appearance at the 2022 Earshot Jazz Festival.
Alex Dugdale Deca-Dance
Thursday October 13, 9:00pm PDT
Sea Monster Lounge
In-person
Tickets $12
BY GREG SCHEIDERER
In-person only (21+).
Alex Dugdale fell in love with jazz when he would tap dance to it as a little kid, but his personal musical tastes are broader. "I've always loved funk music," Dugdale says, listing James Brown and Earth, Wind & Fire among his favorite artists. He is delighted to have the opportunity to funk the joint up with his program Deca-Dance at this year's festival.
Dugdale aims to put a fun spin on his own stuff, noting that he's written many songs for which he's been waiting for a chance to arrange "the funky, big version." Examples include his tunes "Super Secret Buffalo Sauce" and "Git Down," a song about The Big Easy. "That will be great to do with this band, honoring the legacy of the great funk and horn bands of New Orleans and the South," Dugdale says. He's also bringing in songs by John Grant and Nika, and material from other parts of the world with soul and gospel influences, striving to bring multiple elements together to "stretch the envelope of what could be considered jazz." Even the intentionality behind Dugdale's choice of location, at Wallingford's Sea Monster Lounge, is a testament to that. "I've always wanted to play funkier music," Dugdale says. "Be prepared to party!"
The ten-piece funk band includes Melissa Montalto on keys and vocals, Greg Feingold on bass, Max Holmberg on drums, Grant Neubauer on keys, and Cole Schuster on guitar. A five-piece horn section will front the ensemble, featuring trumpeters Hannah Mowry and Walter Cano, baritone saxophonist Jory Tindall, trombonist Freddy Gonzales, and Dugdale on sax, tap, and vocals.
Count Basie Orchestra Directed by Scotty Barnhart/ Roosevelt High School Jazz Band
Friday October 14, 7:30pm PDT
Town Hall Great Hall
In-person & livestream
Tickets $10-65
BY ANGELA DANE
Sponsored by BECU.
Where to start with the legend of Count Basie? William James "Count" Basie formed the Count Basie Orchestra in 1935 and introduced big band to generations of jazz lovers. His innovations as a leader include incorporating two tenor saxophones, initiating band banter, and highlighting the rhythm section. Countless icons worked with Basie, including Lester Young, Billie Holiday, Al Grey, Ella Fitzgerald, and Quincy Jones. By utilizing prominent singers, Basie was able to keep the relevance of big band into the 1950s and '60s.
Directed today by Scotty Barnhart, the orchestra boasts the title of #1 jazz orchestra in the world, as voted by a Readers Poll award in a 2018 edition of DownBeat. The Orchestra has won countless Grammy Awards and performed at nearly every major concert hall and jazz festival. Two of the current members were hired by Basie himself: vocalist Carmen Bradford and trombonist Clarence Banks. Barnhart himself boasts two Grammy wins and has performed alongside Ray Charles and Tony Bennett as a renowned jazz trumpeter. In Basie's own words: "I think the band can really swing when it swings easy, when it can just play along like you are cutting butter."
The celebrated and adored Roosevelt High School (RHS) Jazz Band, who also celebrate their centenary this year, kicks off the evening. RHS welcomes the new Director of Bands, Hannah Mowry, who intends to carry on the incredible 38 years of work that her predecessor Scott Brown built throughout his career at RHS. The RHS jazz band includes trombonists Max Baker and Alexander Phelps; trumpeters Nicholas Chang, Nicolas Garcia-Bompadre, Simon Harrington, Chloe Mai; bassists Naomi Cole and Cole Fung; saxophonists Charlee Dobson Cohen, Taiyo Fuwa, Henry Kelly, Theodore Long, Oliver Nairn, and Yoshi Takeno; pianist Nora Hakimian; drummers Alexander Polyakovsky and Yoshi Stroh; and guitarist Linus Skucas. No one is more proud or excited to share the stage with this young, eager talent than Mowry. In a letter to her students welcoming them to the start of the year, Mowry wrote, "It is hard to find words to describe how deeply excited I am to be your director, how eager I am to meet you, and how much love I have for this program and for each of you already. Teaching music to high school students is my life's passion, and I can't wait to share it with all of you."
Miles Okazaki & Dan Weiss
Friday October 14, 8:00pm PDT
The Royal Room
In-person
Tickets $10-30
BY ANDREW D. MEYER
Welcomed by KBCS. In-person only. $10-30
Groove rules the night with the duo of Miles Okazaki on guitar and drummer Dan Weiss presenting a bottomless study of rhythmic variation. Their 2021 release, Music for Drums and Guitar, features two suites commissioned for John Zorn's Stone Commissioning Series and demonstrates a mature yet curious language that is profoundly unique. Okazaki and Weiss have an uncanny ability to lure in listeners with foot-tapping grooves before subtly shifting and scrambling the beat while making thorough use of timbre and lush harmony.
Originally from Port Townsend, Miles Okazaki has resided in New York City since 1997 where he found early work touring with Stanley Turrentine and Jane Monheit. Okazaki began releasing original material with the groundbreaking record, Mirror, named a New York Times Critic's Pick in 2006, followed by Generations (2009), Figurations (2012), and Trickster (2020), all of which have been critically acclaimed for showcasing an originality that lies beyond jazz and modern guitar playing in a completely personal realm.
An equally unique musical personality, Dan Weiss blends musical interests as diverse as jazz, classical Indian, West African, and metal into a distinctive style that has earned him the title of "one of the top five jazz drummers" by The New York Times. Weiss has been heard with jazz legends such as Lee Konitz, Chris Potter, and Kenny Werner, as well as Indian classical musicians Ashish Khan and Ramesh Misra.